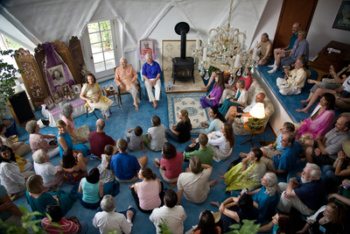 Attunement and Dynamic Affirmation
"You can accomplish extraordinary things through affirmations." – Swami Kriyananda
This talk is a thorough discussion of how you can bring stronger and more dynamic energy into your efforts to attune yourself more deeply to God and Guru.
When you want to change a habit, bring the energy up from the subconscious, through the conscious, then into the superconscious state where change can take effect.
When a problem seems insurmountable, introducing some new element into the situation can be helpful. You can begin moving in the right direction and be open to some new element. Call on God to create the change that is needed, make Him part of the process.
Solutions can come when you put your mind at the point between the eyebrows and ask with dynamic energy, 'God, what should I do?'
Expect that things will go well. Things can flow in direct proportion to one's cheerful expectations. Convince yourself you can do it.
Those who put God first have true happiness.
Attune yourself to God's will by being willing to do anything He asks of you. When you aren't sure of God's will, put out energy in some direction and you'll find that He guides you to the next step.
Practice willingness and enthusiasm, then nothing can stop you.